New Year's Resolutions for your Landscape Seminar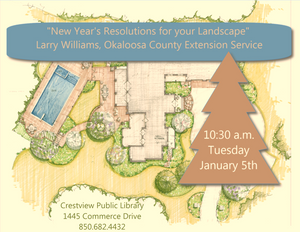 The beginning of a New Year is a great time to evaluate your lawn, landscape and garden and to formulate resolutions for the New Year that will lead to improvements. Otherwise, you're likely to move well into 2016 making the same old mistakes that resulted in failures and frustrations with your lawn, landscape and garden.
To help with this, I will offer a seminar titled New Year's Resolutions for your Landscape that will identify common areas where homeowners make mistakes and help you with ideas for improvements.
Now is a good time to do a walkthrough of your grounds and see if you can identify areas for improvement before the 2016 growing season begins. Make notes if necessary and visually inspect your lawn and landscape plants.
Make decisions on which plants to do away with, which to keep and which that might benefit from being moved to a more appropriate location.
Identify problem areas in the lawn and attempt to determine why those areas aren't doing so well. Decide if renovating and replanting with grass is your best option. Or, something other than grass may be the best option, particularly if there is a history of problems with grass in a specific location.
Many people water too much and fertilize too early in spring. Correcting these practices can improve your lawn next year.
We should water our lawns, landscapes and gardens on an as-needed basis. Cutting the irrigation timer off and operating the system manually would solve many problems.
It's best to wait until your lawn is completely green before fertilizing. This will not be until around mid-April. Fertilizing a North Florida lawn earlier than this wastes fertilizer and may injury your lawn.
A good resolution might be to start composting. Converting yard debris to compost has many benefits, including reducing the amount of solid waste that must be disposed of and it provides an excellent soil amendment that improves our sandy soils.
Learning how to avoid unnecessary pesticide use by following proper cultural techniques would be a terrific resolution. And, when pests do show up, learn how to use the most environmentally friendly techniques to manage them.
I will cover these topics during the presentation on New Year's Resolutions for your Landscape at the Crestview Library's First Tuesday Series program on January 5, 2016.
The program begins at 10:30 a.m. and there is no cost to attend. The library is located at 1445 Commerce Drive (behind the Post Office). Call the library at 682-4432 or the Okaloosa County Extension Office at 689-5850 for more information.
Larry Williams, UF/IFAS Extension Agent, Okaloosa County, December 21, 2015